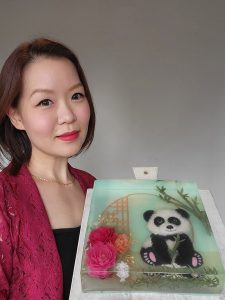 Our Story
Jelly Alchemy was established by Siew Heng Boon in 2017 with a vision to spread the joy of 3D jelly art to Australia. The brand came from humble beginnings — we started with crafting jelly art for family and friends.
As time went by and through word of mouth, more and more people started to enjoy our artisanal 3D jelly cakes and they attracted lots of media coverage. Jelly Alchemy has since been blessed with the unique opportunity to bring 3D jelly art to the world.
Today, we continue to innovate, experiment and develop new techniques and tools that will push the boundaries of 3D jelly art.
Sharing Our Passion
As interest in jelly art started to grow, many admirers expressed that they wanted to learn the craft. Jelly Alchemy then held its first beginner class in Sydney, Australia, in 2018.
In 2019, Siew Heng Boon of Jelly Alchemy was invited to teach in Shanghai, China. Later that year, she became a 3D jelly art instructor at The Australian Patisserie Academy.
Together with our team of distributors in Singapore, Malaysia and Japan, we offer a wide range of jelly art tools which include: transparent bottom moulds, carving tools, jelly specialty art frames and seaweed jelly powder.
Jelly Alchemy multimedia consultant Derek Yeo recently joined the team to further strengthen the brand, social media engagement and develop digital jelly art courses. More online courses will soon be available on this site.
---